Thursday, 27 July 2017 | Admin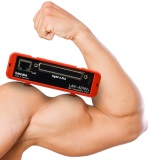 The LAN-AD16fx is a professional but low cost Ethernet based multi-function data acquisition device capable of recording 16 analogue signals with a resolution of 16 bit and a sampling rate of 250kHz, ideal for high speed data acquisition and transient recording.
In addition the LAN-AD16f offers a synchronous acquisition of digital signals.The LAN-AD16fx is equipped with 32 digital channels which can be used as input or output. Control functions can be run by via digital outputs.
All these digital signals are acquired and stored in the sampling clock in synchronism with the analogue channels and also in real time.
Thursday, 20 July 2017 | Admin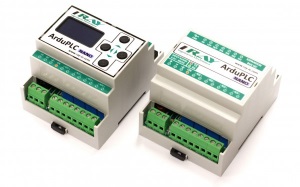 Arduino is a low-cost open-source electronic board system that is capable of controlling just about any DIY hardware project, from robotics to art projects and just about everything in between.
For the process control engineer Arduino based control system may be an interesting and cost-effective alternative to traditional big-name PLC offerings. By adopting the Industrial Arduino PLC route, the Process Control Engineer can reduce control system costs, offer a increase in functionality and improve continuity of supply.
Audon Electronics Ltd can supply such Industrial Arduino PLCs - see here for more information >>
Friday, 20 May 2016 | Admin

Instantly trigger a lockdown of an office or school facility with a physical panic button, or with the CBW LockDown app from any location in the building or campus using Audon Electronics Ltd products.
Audon Electronics ControlByWeb products are highly versatile and have a variety of input/output options to fit your existing system. There are also many custom control and monitoring features that can be added. For example, once a building lockdown is enabled, you can configure it to only be disabled by a password-protected web control panel.
This architecture takes advantage of the existing IP network and wiring infrastructure in a school or office so no new wiring or expensive installation re-work is required!
Monday, 14 September 2015 | Admin
Tuesday, 3 June 2014 | Admin
A common problem encountered by alarm panel installers is how to transmit a digital contact alarm signal across a site to reproduce the signal at some remote point using the sites Local Area Network. Fortunately, Audon Electronics has a number of products that achieve just this!