Thursday, 7 February 2019 | Admin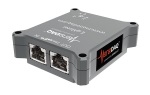 MonoDAQ-E-gMeter is an all-in-one sensor and a data acquisition device with a very low noise 3-axial MEMS accelerometer. The MonoDAQ-E-gMeter has an EtherCAT interface and DEWESoft software support. Power and signal over the same cable allows it to be distributed all over the structure that requires acceleration monitoring.
Friday, 1 February 2019 | Admin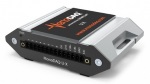 Are you looking for a Data Acquisition (DAQ) device to perform multichannel temperature, pressure, voltage or current measurements in a very limited time? Do you need to control and automate the measurement with analogue and digital output? Are you also tight on budget? If you answered yes, MonoDAQ-U-X is the right solution for you!
Thursday, 31 January 2019 | Admin

Bridge LR converts an RS-485 network to a wireless long range network LoRaTM. A system consists of a master bridge connected to a RS-485 master, and as many slave bridges as required. The communication between master and slaves is completely transparent to allow an easy installation. Bridge LR has a typical range of 1km indoor and 20km outdoor. 12VDC powered for remote battery applications.
Friday, 13 October 2017 | Admin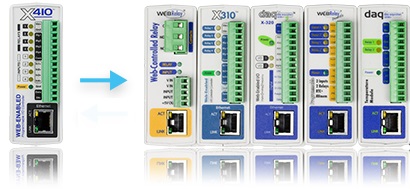 New products released from ControlByWeb
X-410 - a new Web-Enabled Programmable Controller.With the X-410, you can control, monitor, and log up to 100 inputs and/or outputs from up to 32 remote I/O modules using the X-410's intuitive web interface.
XW-210 a Wifi version of the Web Relay but it can also support 4 temperature sensors
X-TC1W-K - Thermocouple to 1-Wire Adapter for high temperature measurement applications
X-DTHS-P Temperature and Humidity Probe
Thursday, 27 July 2017 | Admin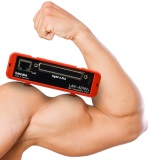 The LAN-AD16fx is a professional but low cost Ethernet based multi-function data acquisition device capable of recording 16 analogue signals with a resolution of 16 bit and a sampling rate of 250kHz, ideal for high speed data acquisition and transient recording.
In addition the LAN-AD16f offers a synchronous acquisition of digital signals.The LAN-AD16fx is equipped with 32 digital channels which can be used as input or output. Control functions can be run by via digital outputs.
All these digital signals are acquired and stored in the sampling clock in synchronism with the analogue channels and also in real time.