26 March 2021
New Products on our website
8 November 2019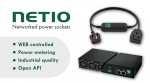 NETIO PRODUCTS
7 February 2019 | Admin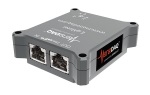 MonoDAQ-E-gMeter is an all-in-one sensor and a data acquisition device with a very low noise 3-axial MEMS accelerometer. The MonoDAQ-E-gMeter has an EtherCAT interface and DEWESoft software support. Power and signal over the same cable allows it to be distributed all over the structure that requires acceleration monitoring.
1 February 2019 | Admin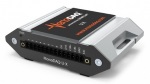 Are you looking for a Data Acquisition (DAQ) device to perform multichannel temperature, pressure, voltage or current measurements in a very limited time? Do you need to control and automate the measurement with analogue and digital output? Are you also tight on budget? If you answered yes, MonoDAQ-U-X is the right solution for you!
31 January 2019 | Admin

Bridge LR converts an RS-485 network to a wireless long range network LoRaTM. A system consists of a master bridge connected to a RS-485 master, and as many slave bridges as required. The communication between master and slaves is completely transparent to allow an easy installation. Bridge LR has a typical range of 1km indoor and 20km outdoor. 12VDC powered for remote battery applications.