X-600 Modular IO System
The X-600 Modular Series is the ultimate drop-in solution for monitoring and control. Start with the X-600M™ master controller and add I/O by connecting expansion modules for a solution that is tailored to your specific application. Expansion modules include relays, digital inputs, analogue inputs, thermocouples and more. This series has many powerful features and will be an ideal solution for many applications.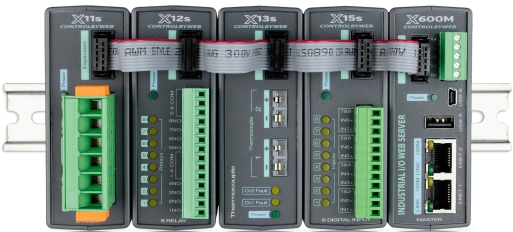 The X-600M is a web-enabled I/O controller that performs control, logic, and monitoring functions similar to that of a Programmable Logic Controller (PLC). However, unlike a PLC, the X-600M is designed for web based applications from the ground up. The X-600M can be setup, controlled, and monitored using its built-in web server and a standard web browser. The setup web pages are intuitive and easy to use and do not require special programming skills. No add-on software is required.
The X-600M functions as a powerful master controller for other ControlByWeb™ modules. Its ribbon-cable expansion bus connector allows for up to 64 expansion modules to be connected directly to the X-600M*. It can also control any of our other stand-alone ControlByWeb devices over an Ethernet network - Up to 128 devices!
Many powerful features are included in this new series; such as customizable Email notifications, scheduling, logging and graphing of logged data, custom Lua scripts, and much more.