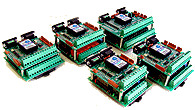 The CUBLOC range are "On-Chip" PLC / Embedded Computer modules and expansion boards that can run both PLC-style Ladder-logic and BASIC languages. CUBLOC Modules are similar to traditional PLCs but their small size allows developers to design them into custom PCBs just like a microcontroller. The use of both Ladder and Basic languages allows for compact, fast and versatile programming functionality. Available with FREE development tools



The xLogic SuperRelay is a compact and expandable CPU replacing mini PLCs, multiple timers, relays and counters. The xLogic SuperRelay perfectly fits in the space between timing relays and a low-end PLC's. The X-Logic range incorporates a good mix of digital and analogue I/O, clock with calender, counters, timers, LCD, keypad and an expansion port. Easy to configure either using the LCD and keypad or with drag-and-drop functions blocks using the FREE ELCSoft software.


EMACSYS - Modular Control System
EMACSYS is not a single product nor is it a single application. Rather it is set of building blocks which enable you to create a product which will closely fit your needs.
With EMACSYS you choose the hardware elements required for your application. Then choose the appware and download it to the EMACSYS control module.